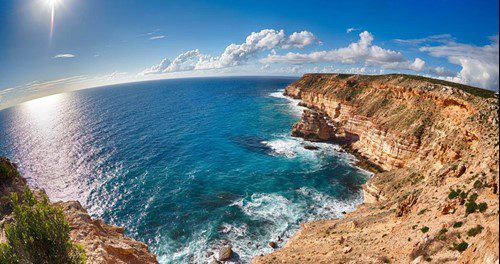 Western Australia Coast
Western Australia has the longest coastline of all Australian states, reaching almost 13,000 km in length. It is home to the longest fringing reef in the world – the pristine Ningaloo Reef – and to the oldest life forms on earth, the stromatolites of Shark Bay, an official UNESCO World Heritage Site. Our coast encompasses a variety of beach environments, ranging from temperate sandy coastlines in the south to tropical reef environments in the north. The population is concentrated in the Perth metro area and the majority of the coastline of regional areas is pristine.
West Australians have a strong connection with the coast and the engagement of stakeholders and the wider community is critical to maintaining our coastal values. There are many local individuals, coastal community groups, conservation groups, academic institutions, and schools undertaking hands-on management and education around protecting and enhancing our magnificent coast.
Through information sharing, advocacy and knowledge development, ACS WA seeks to continue to support the great work of WA organisations involved in coastal management, and the coastal community more broadly, to ensure healthy coastal ecosystems, vibrant coastal communities and sustainable use of coastal resources is maintained.
Coastal Governance in WA
While there is no specific coastal legislation in Western Australia (a Coastal Act), there is a dedicated coastal and marine program that continues the work initiated by Coastwest in 1998 (through the CoastWA program). The State Coastal Zone Strategy, a whole of government framework for collective action, together with the Coastal Planning Policy (SPP 2.6) and Coastal Hazard and Risk Management and Adaptation Planning (CHRMAP) Guidelines, provide the framework for coastal management in WA. In addition, the Coastal Erosion Hotspots report identifies 21 priority areas where erosion is likely to impact public and private assets. For example, hotspot locations include Port Beach, South Thomson Bay (Rottnest Island), Ledge Point and Seabird, among others.
Local governments, steered by policy and legislation at the state government level, are at the forefront of managing social, economic and environmental impacts in coastal areas. Collaborative partnerships across local governments in WA to manage coastal climate risks and develop adaptation plans have enabled participating councils to pool resources and deliver greater outcomes than would have otherwise been possible (see for example the Peron Naturalist Partnership https://www.peronnaturaliste.org.au/; and the Cockburn Sound Coastal Alliance http://cockburnsoundcoastalalliance.info/ ). This has delivered great benefits, but there remain calls for a state-level coordinating authority to support coastal management throughout WA.
An integrated approach, incorporating socio-economic, infrastructure, planning and environmental concerns, is critical to meeting the challenges of long-term planning and coastal zone management. At the national level, mechanisms previously in place to support integrated coastal zone management, including for example, a tri-lateral agreement between Commonwealth, State and local governments to support grassroots efforts on coastal public land, and funding programs with specific priorities for coastal areas (e.g. Coastcare and Caring for Country), are no longer in place. As a result, coordination and funding has declined, with implications for coastal management efforts.
Furthermore, there once were, but are no longer, the following mechanisms to support coastal community groups engage with the State and each other around ICZM:
A Statutory Authority for the coast;
An annual Statewide coastal conference (now amalgamated into one single State NRM and coastal conference every 2 years) and
A newsletter (previously Coastlines).
Climate change, population growth and economic development are challenges coastal communities will continue to contend with; and community groups, NGOs, research institutes, and government authorities are working hard to address these issues. Some such organisations include, for example:
NGOs such as the WA Coastal and Marine Community Network (CMCN, www.wacmcn.org), Coast SWaP and the Conservation Council of WA;
Research Institutes such as WA Marine Science Institute and the Oceans Institute;
Various Friends of Groups and Coastcare Groups;
Regional NRM Groups such as Perth NRM and the Northern Agricultural Catchment Council; and
Sub-regional catchment councils (e.g. Geocatch, Leschenault Catchment Council, Lower Blackwood)
LATEST INFORMATION
At the WA NRM and Coastal conference (Oct 2019), the need for state-level coordination was again voiced. In response, ACS WA in partnership with Perth NRM and CoastSwap established the WA Coastal and Marine Community Network. This network provides the only state-wide coordinating network for coastal and marine issues in Western Australia. Find out more here: www.cmcn.org.
In addition, as a mechanism to support information sharing, ACS WA established the quarterly e-publication WA Coastal News. This is now a partnership between ACS WA and the WA CMCN. You can sign up to receive the e-newsletter here: https://wacmcn.org/wa-coastal-news/
Other priorities for ACS WA include:
Working to promote a coordinated and holistic framework for coastal and marine management in WA, through the development of dedicated marine and coastal legislation (as per other Australian States) or alternate mechanisms that focus on integrated marine and coastal management.
Promoting update of the WA Coastal Planning and Management Manual, an important resource for local governments and volunteer community groups, which is still drawn on despite 16 years since its publication. Since publication many aspects of planning and management have changed, been modified or are completely new, technologies for its distribution have expanded, best practice CZM has evolved and issues around coastal risk have increased. A revised edition is therefore well overdue.
Promoting the re-establishment of local coastal coordinating mechanisms. There is a significant gap post the loss of coastal facilitators around the State. This loss has had devastating effects on local volunteer groups and on the delivery of vital on-ground coastal management works.
Promote knowledge sharing across our network through our quarterly e-newsletter
Do you have other issues/concerns that you believe ACS could work towards? Please let us know what is important to you. Contact: austcoastsocwa@gmail.com
USEFUL LINKS
Last updated: June 2022